Looking for a Handyman in the
Baltimore Metro Area?
Get low rates combined with the security of a licensed Home Contractor, all in one.
We want to be your one-stop for a wide range of home maintenance, improvements and repairs.
At HomeMAX Pro, we're a licensed and insured Maryland contractor that also does handyman services. That gives you the security of hiring a contractor but at low handyman rates!
You don't need to call three different contractors to repair the plumbing, install an outlet and clear the leaves from your gutter - just call Home Max Pro!
Why Choose Us?
We're Trustworthy
Full Range of Skills at Low Rates
Safe, worry-free experience
Fully Licensed & Insured
Exceptional Workmanship Guaranteed
We clean up when we're done!
We're not a national franchise – we're a family owned and operated business that depends on repeat business. Hire us for an hour or an entire day – either way, you get exceptional customer service, honest and fair pricing and quality workmanship. We'll give you a fast and fair estimate – often, right over the phone.
What we do:
Install outlets, install ceiling fans, repair and install faucets, painting, ceramic tile, water heaters, install fencing, repair dishwashers, yard work, power washing, cabinet installation, furniture assembly, install wall mounted TVs, install flooring, waterproofing, plumbing, garage cleanouts and much more!
We're in your neighborhood
Give us your honey-do list and we'll get it done quickly and efficiently. We serve residents in Baltimore, Annapolis, Towson, Hunt Valley, Rosedale, Parkville, Owings Mills, Pasadena, Crownsville, Timonium and beyond.
We provide services in the following counties: Anne Arundel, Baltimore, Carroll, Harford, Howard.
If you don't want to do it - HomeMAXPro will!
If you live in Baltimore or Anne Arundel counties, take advantage of our Fall Promo offer. Act now, request a call back to discuss your project: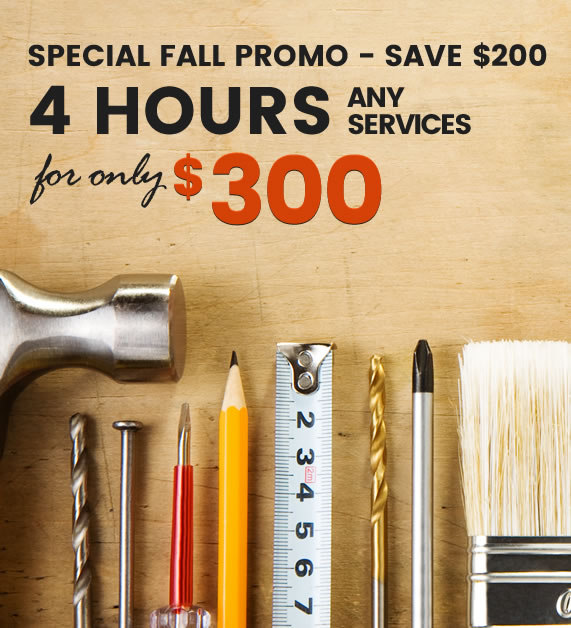 Get the Offer
Special offer only applies to work performed in Baltimore City/County or Anne Arundel County. We accept cash and major credit cards.
MHIC #106366